Nature perfected
the plant -
Benchmark®
keeps it that way.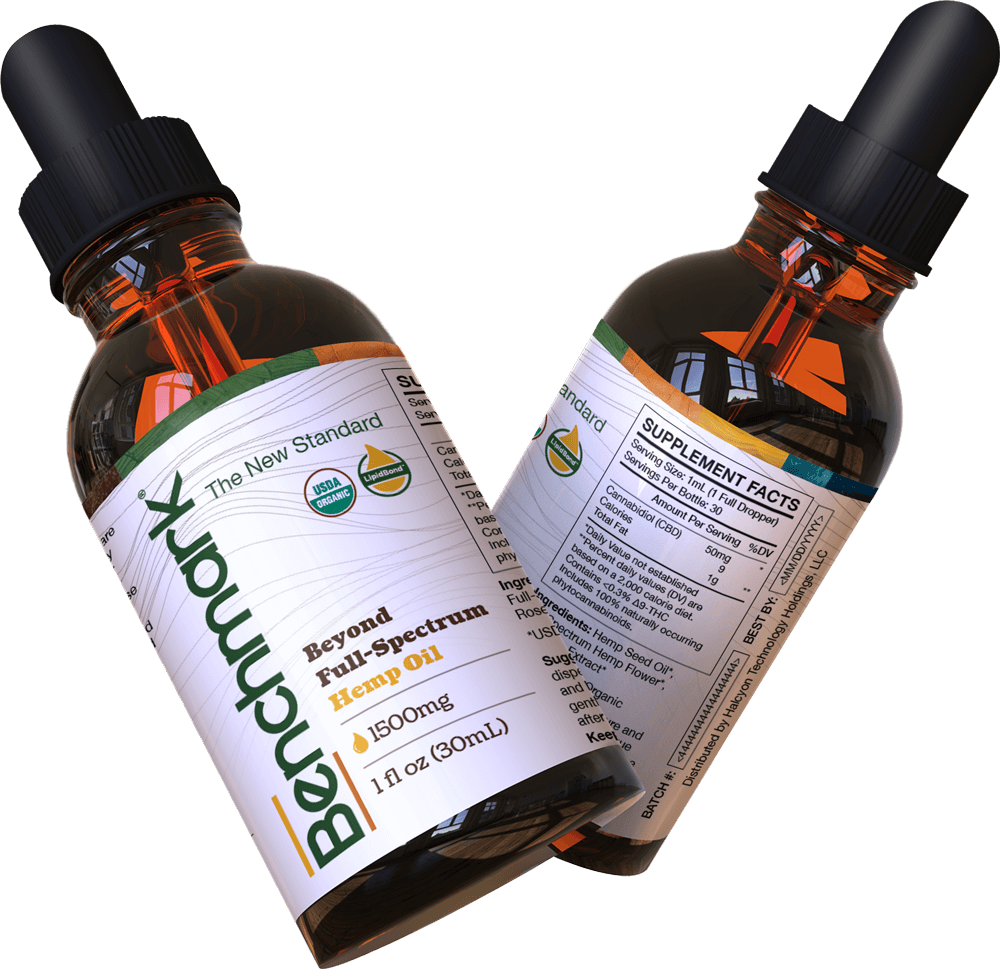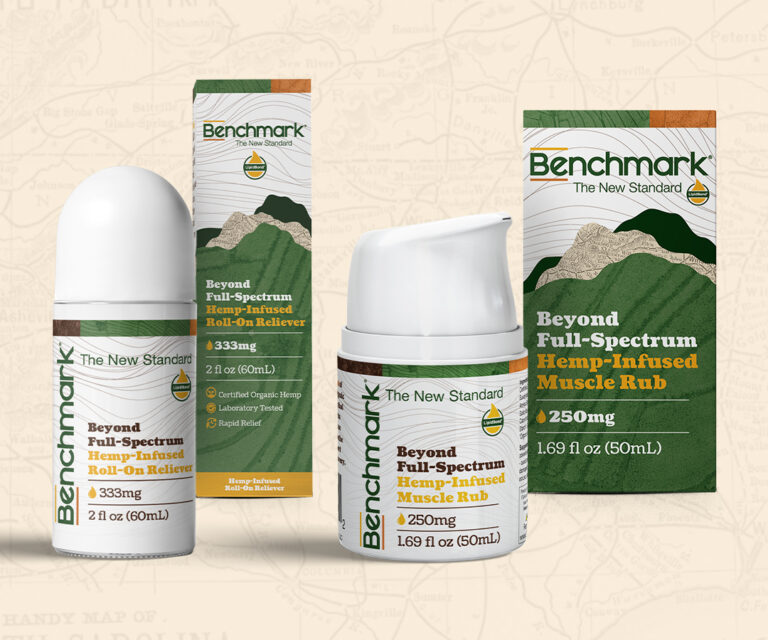 Benchmark crafts the
purest, most complete


CBD products on Earth.
Nature perfected the plant—Benchmark takes it a step further. Benchmark uses the revolutionary LipidBond™ process which unlocks hemp's highest potential by preserving every known benefit while keeping it free from harmful additives, so you get effective, superior quality CBD products to elevate your wellness.
Learn more about the Benchmark product line
The Benchmark®
Difference
LipidBond™

is changing the industry
With a reverence for nature, Halcyon Technology Holdings has introduced a groundbreaking LipidBond™ CBD production process. This method is a patent-pending, completely green, and certified organic process that naturally unlocks the pure potential of the plant. Using water, heat, and pressure, Benchmark's unique LipidBond™ process fuses cannabinoids, terpenes, and chlorophyll to hemp seed oil in a single process.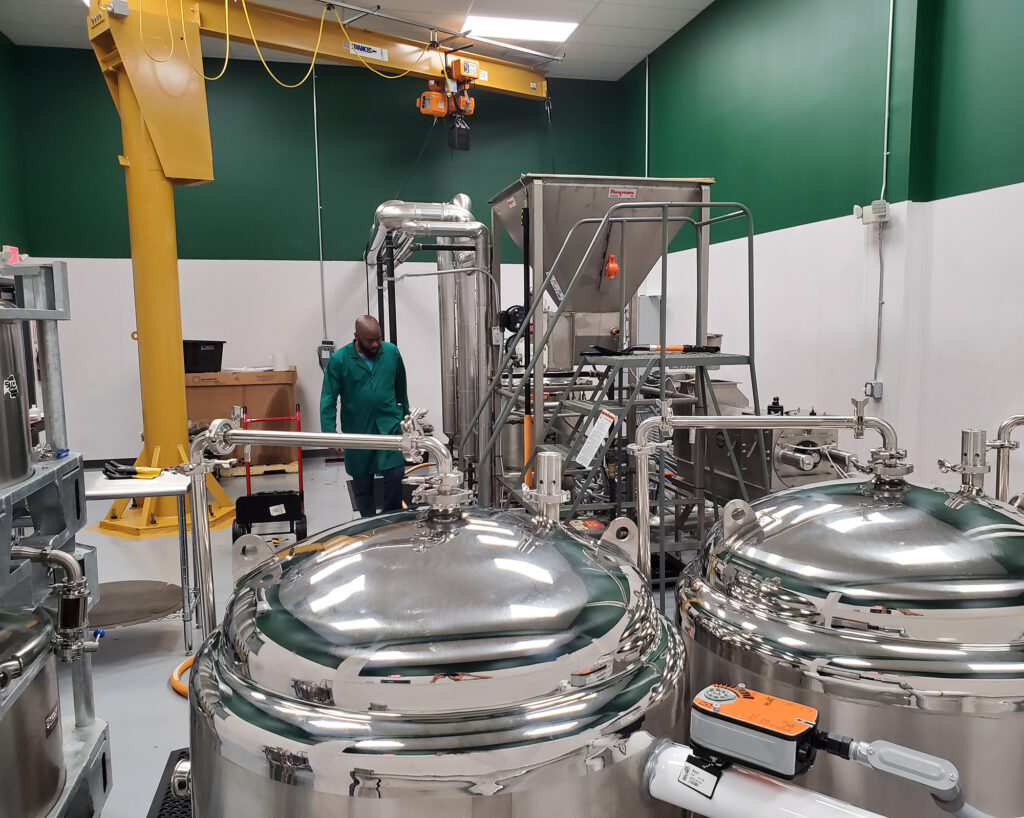 We are the next generaTION IN EXTRACTION
A simple, safe scalable, cost and space-efficient, all-natural, full-plant extraction solution did not exist. Until now.
About Benchmark Extraction Process
With a reverence for nature, Benchmark leads the hemp industry with its LipidBond™ process. Our team of experienced technology and hemp experts have created a proprietary, patent-pending, completely green, single process that naturally unlocks the pure potential of the plant.
Using all-natural ingredients and heat, our process is solventless, resulting in a clean, consistent, non-toxic product, activated for maximum user benefit.
How the Extraction Process Produces the Entourage Effect
This extraction process produces pure, full-spectrum CBD oil. It preserves all the minor cannabinoids, terpenes, and chlorophyll. This means you get the maximum benefits! Benchmark exercises complete control of the extraction so nothing else makes its way into the products.
Cannabinoids are simply the compounds in the cannabis plant. CBD is the most well-known cannabinoid. But when you get CBD isolate, you're missing out on over a hundred other cannabinoids that benefit you in different ways.
A terpene is the fragrant part of the cannabis plant. Every terpene can benefit you in at least one way. Terpenes can do everything from boost your mood to reduce inflammation to relieve your pain. There are 200 terpenes in the cannabis plant! If a company isn't preserving all those terpenes in its CBD oil, you're missing out on lots of benefits.
When you're getting all these components from the CBD oil, you're able to experience the entourage effect. Simply put, the entourage effect is when all the components of the cannabis plant are working together. You experience more benefits when the components are together than when they are separate. Because of this, you're getting the most bang for your buck by using the incredible extraction process that wastes nothing.
The Dangers of Extraction with Solvent
A lot of people turn to CBD because it's a more natural approach to wellness. But if they get their CBD from a manufacturer that uses solvents and other additives, you aren't getting the truly natural experience you crave. Benchmark created this special extraction process to be both natural and effective. Consumers who take this CBD won't have to second-guess what's going in their bodies. They'll know it's made of pure, natural ingredients!
Because this process doesn't include solvents, this CBD won't harm the consumer or the environment. Solvents can pollute the environment and threaten plant and animal life. Benchmark special process produces the most natural CBD oil with the highest efficacy on the market. These products maintain the true rich terpene and flavonoid profile.
Solvents can also be dangerous for the consumer. When your CBD contains residual solvents, it increases the consumer's risk of cancer. Some solvents are even toxic. Solvents are just too risky to include in the extraction process.
The only way to effectively bypass these risks is to get CBD that hasn't been extracted with any solvents at all. Other cannabis companies don't care about the consumer and use solvents even when they know the harm they can cause. Benchmark special extraction process puts consumers first!
Consistently Superior Extraction Process That's Scalable
The Benchmark extraction process also ensures consistency. Whether it's someone's first or fiftieth time using oils made from this process, they'll get the same effective CBD oil. No matter how experienced someone is using CBD, Benchmark  believes they deserve the best of the best. Benchmark wants every CBD user to have an amazing experience when using their oils.
There is no other CBD company in the market right now that utilizes this process to the scale that Benchmark does! But they are constructing equipment that will increase production even more! With this new equipment, Benchmark would be able to produce around 300 gallons per day of 8% to 10% finished full-plant extract oil. This equipment can also process 1,650 pounds of top-shelf high-end industrial hemp flower.
This is the most cost-effective method that's available for this process right now. The cost of just one of these facilities is less than one-fifth the price of a similar processing facility. In addition, every facility produces 100 times the output of a traditional facility!
Bigger Implications of the Technology
This process has potential that extends beyond the CBD industry. It has greater implications for the food industry as a whole because it can infuse and bond just about any lipid or fat. As a result, it can pave the way for creating concentrated versions of:
Guajillo chili and hemp bonded ghee
Raw sugar infused with full-spectrum plant extract
Rosemary, ginger, and eucalypts safflower oil
Turmeric and ginger-bonded olive oil
Turmeric-bonded 76-degree coconut oil
Extraction That's Superior for Cannabis Farmers
Another benefit of this extraction method is that it gives cannabis farmers more control over products derived from their crops. Benchmark places these state-of-the-art CBD extraction facilities throughout the country, so farmers from all over are able to take advantage of this process. This superior seed-to-shelf process means farmers know exactly what's in the CBD oil made from their crops.
Benchmark allows farmers to use their on-site lab for testing, so farmers know their products have consistently high-quality. Benchmark also give cannabis farmers access to our private label program and distribution channels. Because of the extra attention to detail at every step of the cannabis oil's journey, the result is the very best CBD. No one cares for your CBD oil with the same care that Benchmark does.
Now that this superior method has entered the market, the standard for CBD has been raised! Benchmark hopes that people will stop settling for inferior quality CBD when this extraction product exists.
Learn More About CBD Oil from Benchmark
To learn more about this revolutionary extraction method, contact Halcyon Holdings. Benchmark provides the Full-Spectrum CBD Oil Extraction for brands owned and partnered through Halcyon Holdings, such as HemptopiaCBD, Dosha, and Hatfield McCoy Mountain Legacy.